We had already been able to see it in photos and videos since it was presented in digital format from India, but as established by protocol, it was time to see it and try it in our country.
That is why we traveled to Valencia, for the debut of the new Royal Enfield Scram 411 which is, as they define it, the brand's first crossover ADV. We were able to make a route through curved roads and test in-situ the new sensations that this Scram 411 delivers.
This Royal Enfield is not entirely new, as it has been designed and built on the platform of the Himalayan, offering an equally adventurous but more modern and attractive style. On the Himalayan we had already been able to test comfortably in the presentation of two days of route that we link here (See presentation of the Royal).
The technical changes between the Himalayan and the Scram are not too many but important, for example the front wheel loses size, going from 21 to 19 inches in this new model. This has been achieved by improving agility on asphalt and maintaining a certain solvency in off-road driving, and, at the same time, offering a much more youthful alternative that is better adapted to the urban environment. Although it is true that the new Scram can be used on roads, it is not a motorcycle designed for the field. We were able to do a dirt road and the Scram behaves equally well in this environment if what we want is to go for a walk.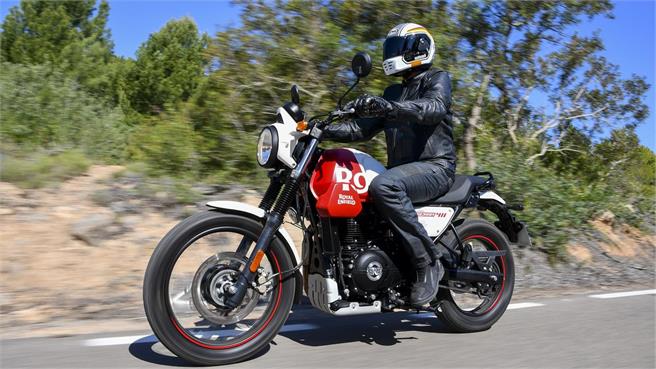 The Scram is Royal Enfield's new bet for the scramler segment
In terms of design and ergonomics, the new Scram 411 has been created under the parameters of the scrambler philosophy. This fact helps make it a bike that feels nimble and is fun to ride both in and out of town. There are quite a few more differences with the Himalayan. For example, the one-piece seat has been designed to achieve high comfort for both the driver and front passenger, while its low height makes it easier to maneuver while standing.
It really is a motorcycle that does not tire as well as being very mousey in heavy traffic. It arrives very well and is that its 795 mm seat height is a contained measure since the seat is narrow. At the same time, the wide handlebars and footrests help us maintain a dominant and comfortable posture whether sitting or standing.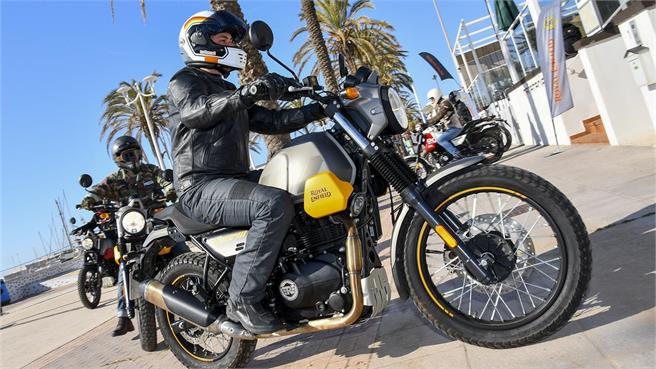 Its presence and design attract attention wherever you go
This "croissant" type position of the arms turns out to be quite comfortable and intuitive since you are always prepared for any unforeseen event. The final feeling is that it is a motorcycle with which to move is a pleasure. The general comfort, the calm character of its engine and a pleasant position of arms and legs invite relaxed driving.
Less is more
On a mechanical level, it has the well-known 411 cc single-cylinder 4-stroke engine, air/oil cooled with SOHC cylinder head and powered by electronic injection.
Its power is 24 hp at 6,500 rpm and the maximum torque of 32 Nm at 4,500 rpm. This does not mean that it is a boring motorcycle, since if you ask for a certain speed, it also offers it to you.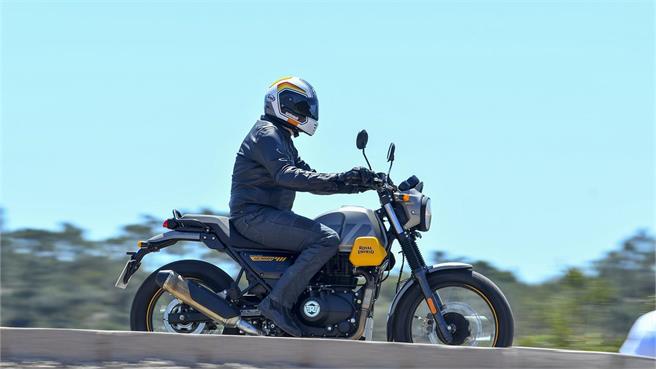 With a good size but without going over weight and height, the Scram is the right size for all audiences
This power, which may seem very fair, becomes sufficient for the purpose for which the Scram 411 has been designed. The vibrations that could be its worst enemy are well mitigated and will only appear if we try to drive the engine at the limit of its revolutions, but as I have already said, this is an engine to take advantage of at low revs.
Both the engine and the rest of the components are very robust, which convey a high quality sensation. This benefits the model in the event of a fall, since the absence of aesthetic elements and the very composition of the motorcycle help in this aspect. We cannot forget that these motorcycles are designed for the roads of India, where asphalt and clean spaces are scarce.
Cycle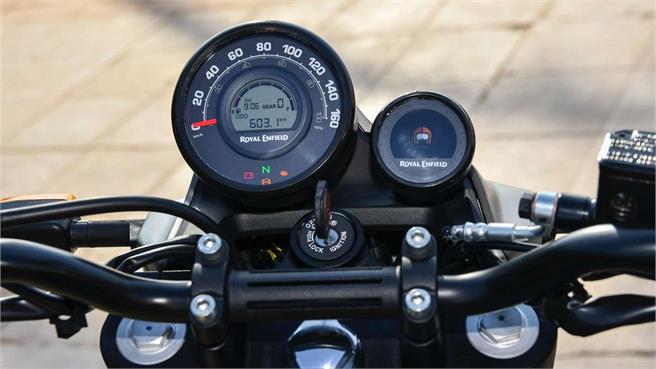 The instrumentation is complete and includes an LCD trip to link with the Royal app
The engine is mounted on a double cradle steel frame designed by Harris, undoubtedly a success on the part of Royal the acquisition of this engineering. The rest of the cycle part is made up of a conventional fork with 41 mm diameter bars and 190 mm of travel at the front, and a single 180 mm shock absorber at the rear.
The comfort of the suspensions is one of its points in favor since they absorb very well with a really comfortable balance. When braking, it mounts a disc on each axle, 300 mm at the front and 240 mm at the rear, assisted by dual-channel ABS. The calipers are Bybre with two pistons at the front and one at the rear. As it will not go at speeds that are too high, the brakes are well calculated to cover their task.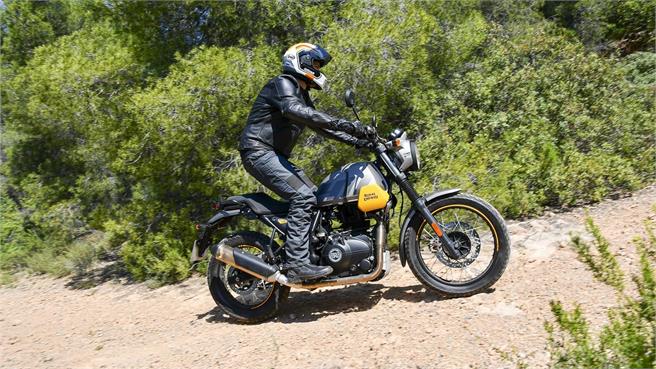 The Scram treads well on all types of terrain, be it asphalt or dirt.
The rims are 19-inch and 17-inch spokes respectively and are fitted with versatile mixed tyres. The brand of these tires is Ceat, an Indian brand unknown to me to date, but which seemed quite successful for this Scram.
As far as the standard equipment is concerned, its compact instrument panel also stands out, made up of a single analog sphere, inside which we will find an LCD screen.
This features a tripmeter, hourly clock, fuel level with low level warning, and service reminder. In addition, the Royal Enfield Tripper navigator is included as standard and can be linked to our mobile phone through an application to serve as a navigator and travel guide.
conclusion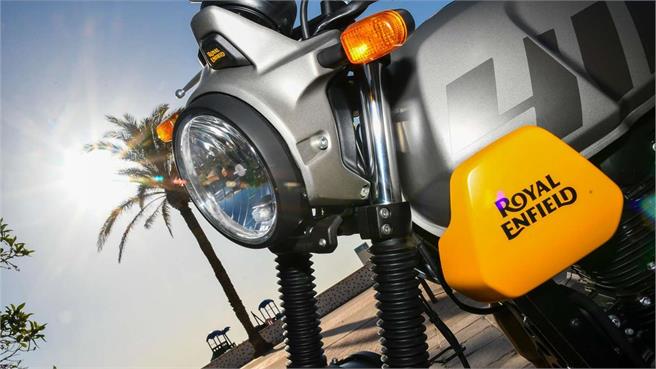 The design and quality of materials improves model by model and is already at a good level.
Just like when I tried the Himalayan, with the Scram 411 I had a great time. The engine is really very nice and since it has a great torque it is very enjoyable from low revs. And above all, I noticed that the 19-inch front wheel allows for better tread. It is an enormously stable bike and turns very well. The quality of finishes is good and the colors are attractive.
The basic versions of the Scram 411 are now available at a price of €4,989 in graphite yellow, graphite red and graphite blue, all with a metallic gray "Gun Gray" tank. There will also be a high-end version in the colors White Flame and Silver Spirit, with dual-tone tanks and an original graphic design, at a price of €5,189.