The Council of Ministers will approve next Tuesday, February 8, the Royal Decree that eliminates the mandatory use of the mask outdoors, according to statements by Carolina Darias, Minister of Health.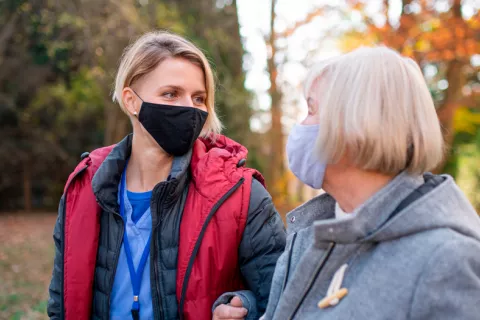 Carolina Darias, Minister of Health of Spain, has been clear in her recent statements in an interview on Cadena Ser "I confirm that next Tuesday we will take the Royal Decree to the Council of Ministers by virtue of which we will eliminate the mandatory use of masks abroad ", a measure that came into force from Christmas Eve due to the growth of infections by omicron.
In this way, it informs that next Tuesday, February 8, 2022, the Council of Ministers will meet to put an end to a measure that has created a lot of controversy in recent days, especially after it was approved last Wednesday to extend its imposed use. outdoor. "In the month of December, a series of agreements were adopted, one of them the return of the masks in the face of the exponential growth and the uncertainty of this variant," explains Darias.
However, both public opinion and the scientific community have been against maintaining this obligation, as they maintain that the chances of becoming infected with SARS-CoV-2 – the virus that causes COVID-19 – outdoors is much lower than indoors. closed places.
The Royal Decree that eliminates the obligation to wear a mask outdoors will be approved on Tuesday, February 8, but will be effective from Thursday 10
As for when it will be possible to go down the street without a mask, the minister has indicated that "the idea is that it be published in the Official Gazette on Wednesday and be effective as of Thursday." This measure has been taken, as she explains, taking into account all the epidemiological indicators, which have been on a downward trend for a few weeks after the high incidence of the sixth wave, driven by the omicron variant.
A generalized reduction of restrictive measures
Beyond the masks, the autonomous communities have been reducing the measures that were implemented to try to reduce the effects of the sixth wave. For example, as of today in the Basque Country and the Canary Islands, the covid passport will no longer be mandatory and in Aragon this document will only be requested for visits to hospitals and social centers, such as residences.
In addition, Catalonia is finalizing the details to reopen nightlife, so this weekend will be the last in which the clubs are closed, as they are scheduled to open their dance floors on the night of Thursday, February 10.
.