Check out our step-by-step plan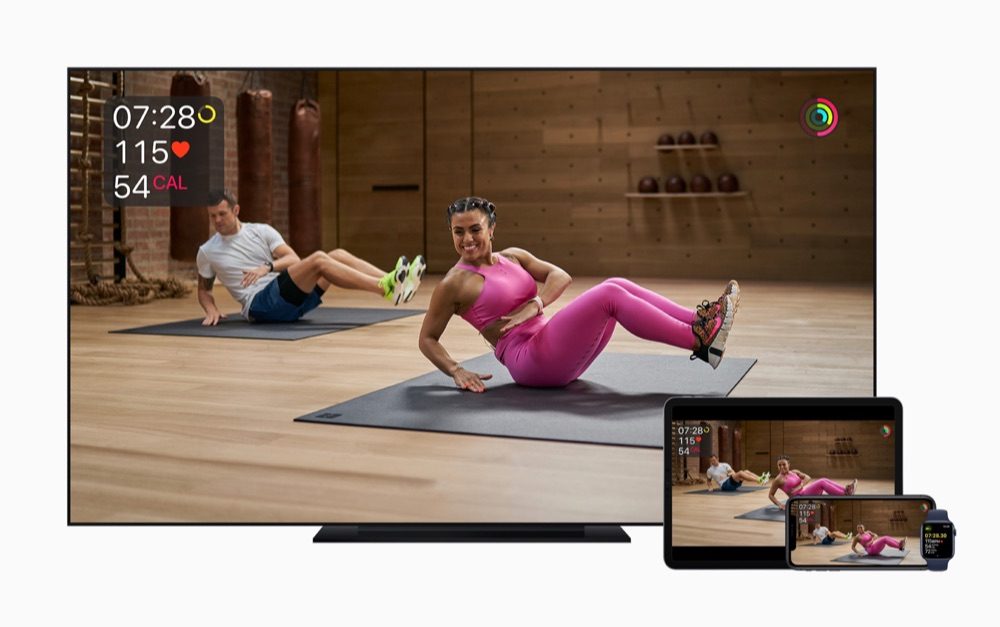 Fitness+ in the Netherlands and Belgium
Fitness+ has already launched in English-speaking countries, including the United States, United Kingdom and Australia. It has not yet been said when it will start in the Netherlands and Belgium, but luckily you can already try it now. You need an American iTunes account, which has enough credit to pay for the first month. You will also have to switch App Store accounts. It's not complicated if you want to put in some effort. You can read all about it in this guide. With January and good intentions coming up, we think it's a good time to get started now!
You need this
Trial month free
Log in and get started
Extend
Exercise with Fitness+
Exercise with an Apple Watch
Multiple users
Cons
Necessary for Apple Fitness+ in the Netherlands
To use Fitness+ in the Netherlands you need the following:
An iPhone, iPad, or Apple TV with at least iOS 14.3.
An Apple Watch with at least watchOS 7.2 (recommended, not necessary)
A US iTunes account or one of the other countries.
Minimum $9.99 credit or valid US payment method.
The Apple Watch does NOT need to be logged into a US account. So you can simply use your Dutch Apple ID to record the workouts. The US account is for subscription and payment purposes only.
If you want to use an Apple TV, you must also be logged in with an American iTunes account, otherwise it will not work. You can also send the content from your iDevice to your television screen using AirPlay.
Instead of a US account, you can also use an account in one of the other supported countries, namely Australia, Canada, Ireland, New Zealand or the United Kingdom. Your payment method must therefore be suitable for this country.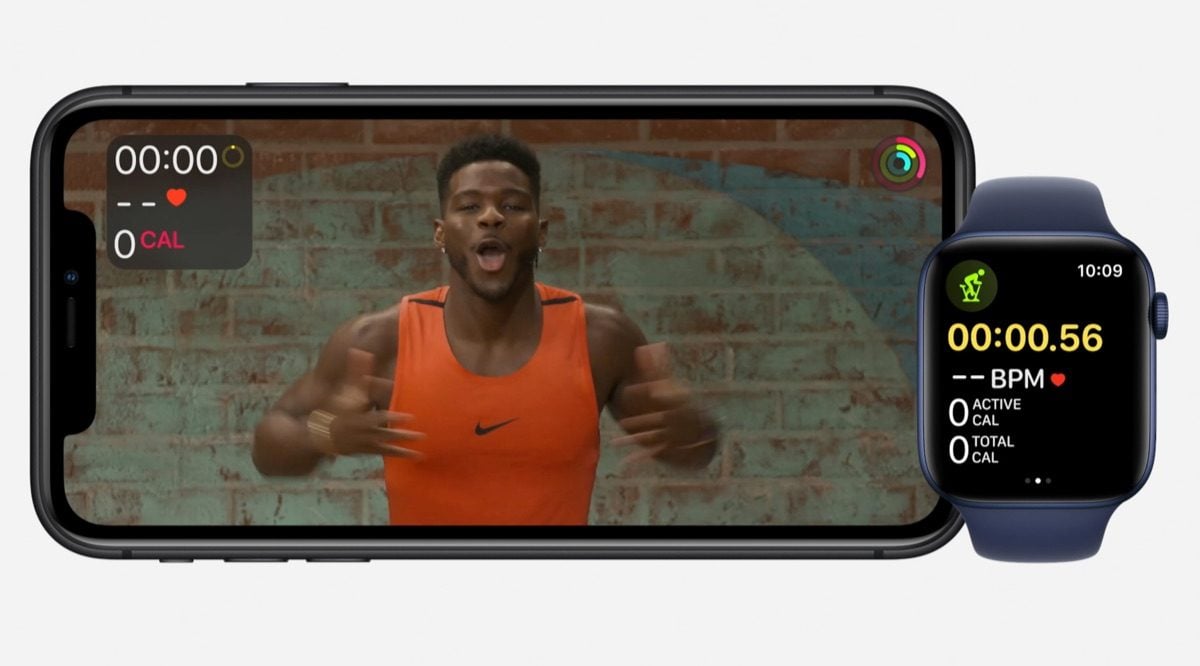 How do you get App Store credit? We bought $10 credit at livecards.nl but this was a fairly random choice. Make sure you work with a reliable party, because there are also many fake providers. Unfortunately, well-known addresses such as Startselect only offer Dutch iTunes cards. You must have a gift card that is valid in one of the countries mentioned, for example the American App Store.
But the trial month is free, right?
That's right, but to qualify for the free trial month you will have to sign up for a follow-up subscription. Make sure you keep an eye on when your subscription ends, so that you can cancel in time at the end of the trial month. Apple will also send you a reminder about this. You can also cancel immediately after the trial month has ended, but your trial month may also be terminated immediately. We have not been able to test this yet, so if you want to cancel now, you do so at your own risk.
Log in and start with Fitness+
Once you've arranged everything, you'll need to switch App Store accounts. This goes as follows:
Open the Settings app on your iPhone or iPad.
Tap your account picture at the top.
Tap Media & Purchases.
Tap Sign out.
Log in with your US account (this is the second option, not 'your name').
Do you have an iPad? Then download the Fitness app from the App Store. On an iPhone, you open the Condition app, which is already installed by default.
An extra tab will now appear at the bottom of the app, called Fitness.
Do you get an error message? We also had this problem a few times. Restart the app or your device until you can connect to the server.
We didn't have to change regions, language settings or addresses to get everything working. The US Apple ID is of course at a US address and there is a US iTunes gift card or payment method associated with it, but if you have already set this up correctly for your account, you do not have to do anything. You also don't have to adjust the settings of your Apple Watch.
Renew Fitness+ after the trial period
For many people, the trial period of Fitness+ has now ended. If you started right away and you have a recent Apple Watch, you got a 4 month trial, so this ends in April or May 2021 for the early birds. What do you do after that?
If you want to stop
If you want to stop using Fitness+ and you have not linked a credit card or long-term payment method to your account, your subscription will automatically end. Apple can no longer collect money and will stop the subscription. However, it is better to cancel the subscription manually, so that you are not faced with any surprises in the future.
Open the Settings app and tap your account name at the top of the screen.
Tap Subscriptions > Fitness.
Tap Cancel Subscription.
You can then be sure that no money will be collected in the future when your US App Store account is credited again.
If you want to continue
If you want to continue with Fitness+, you have two options: take out an annual subscription of $80 or pay $10 per month. Which of the two options is the best choice is a guess. With an annual subscription you pay for 8 months and you get 4 months free, so that is very attractive. However, it may well be that Apple will officially roll out Fitness+ in the Netherlands in a few months. In that case, you may prefer to have the subscription run through your Dutch account. It is also possible that the most extensive subscription of Apple One (with 2TB storage and Fitness + included) will become available in the Netherlands, so that you are even cheaper.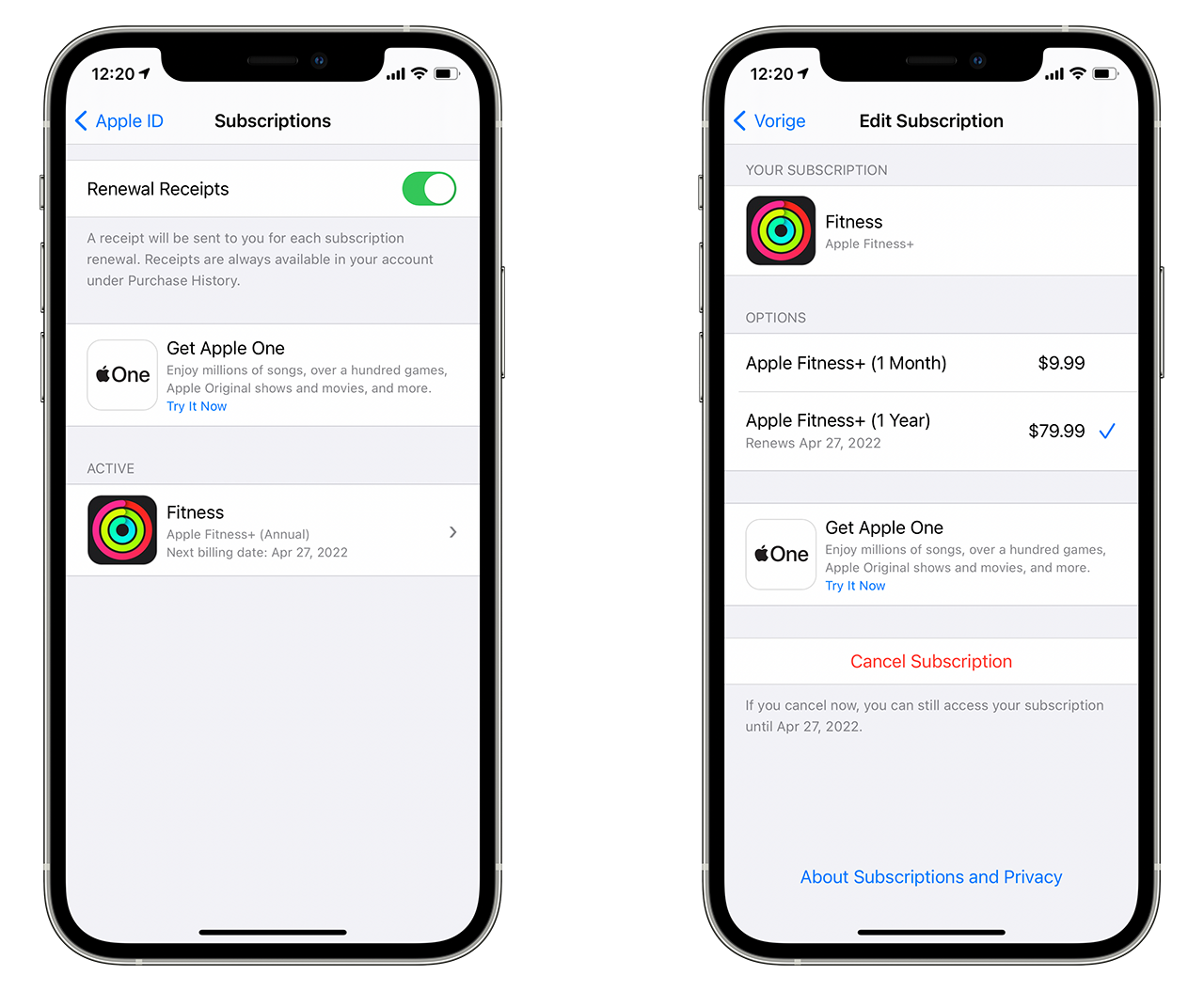 There's no indication that Apple is rushing to roll out Fitness+ in other countries, so what we've done is take out an annual subscription. You then bet that it will take Apple more than 8 months to also make Fitness + available in the Netherlands and Belgium. In April / May 2022 you can then take a closer look at how the flag hangs.
Note: It is best to deposit a $100 credit. We tried with an $81 credit and it was declined, even though the subscription fee is only $79.99. When we deposited an extra $10 it worked.
Exercise with Fitness+
Fitness+ offers you various options. At the top of the screen you will see the various sports you can choose from. All content is of course in English, but that is exactly the reason why Apple has not yet officially released it in the Netherlands and Belgium. Choose a sport or scroll down to see beginner workouts. You can also filter by duration and by name of the trainer.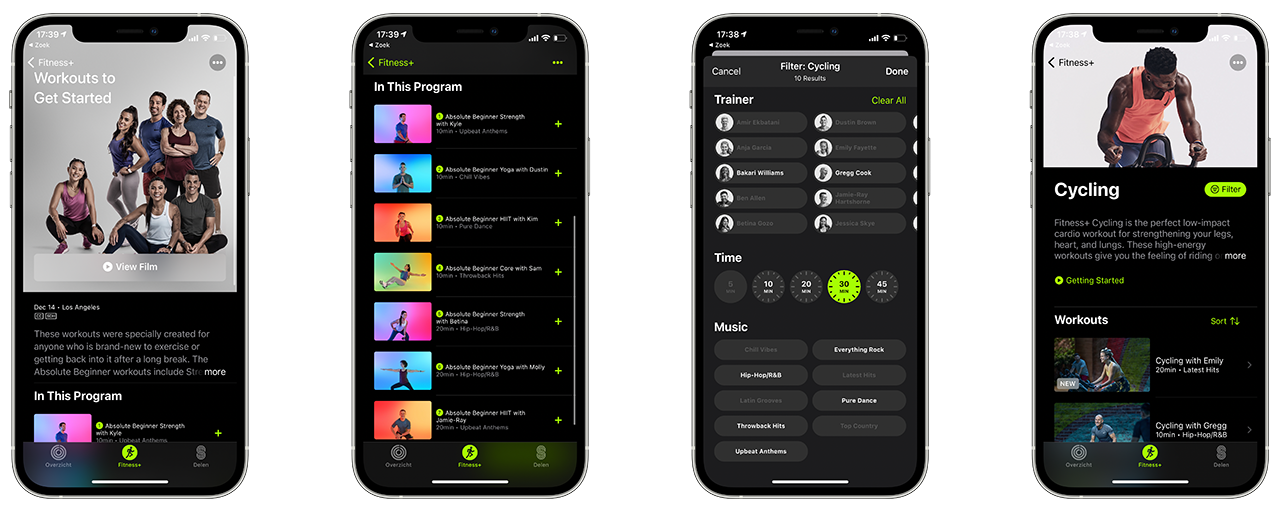 Exercise with an Apple Watch
Do you wear an Apple Watch? Then when you start a fitness video, it will automatically start recording a workout. This worked without any problems for us during a cycling workout, but we have not yet been able to test this with all variants.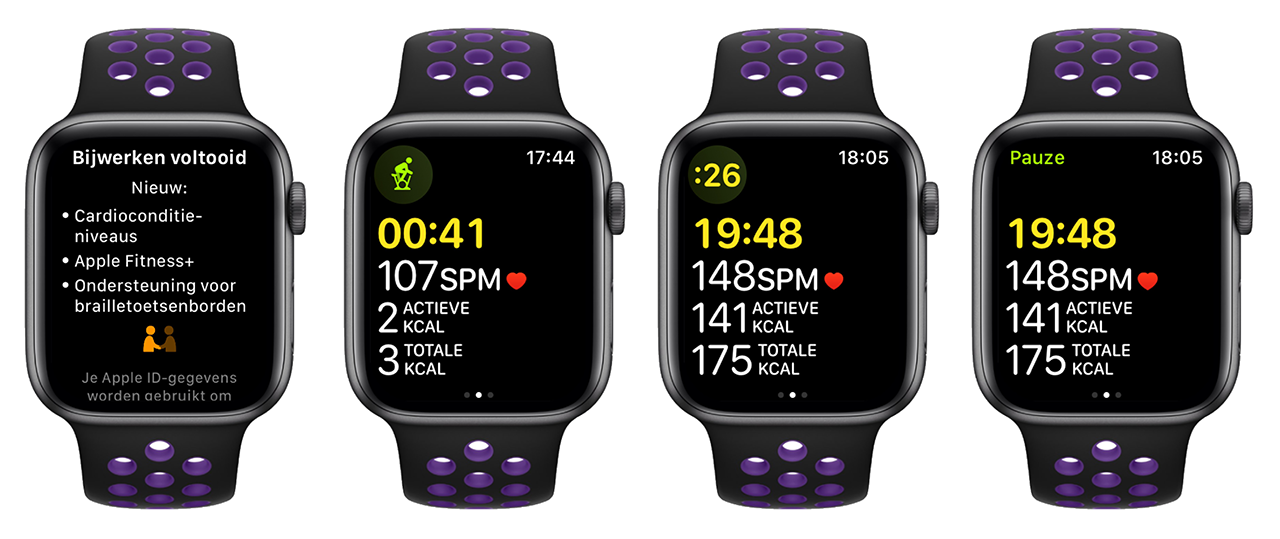 You can see your current heart rate on the screen of the iPhone or iPad. If there is an interval where you have to exert yourself for an extra 30 seconds, for example, you will see a timer on all your screens, i.e. on iPhone, iPad, Apple TV and/or Apple Watch.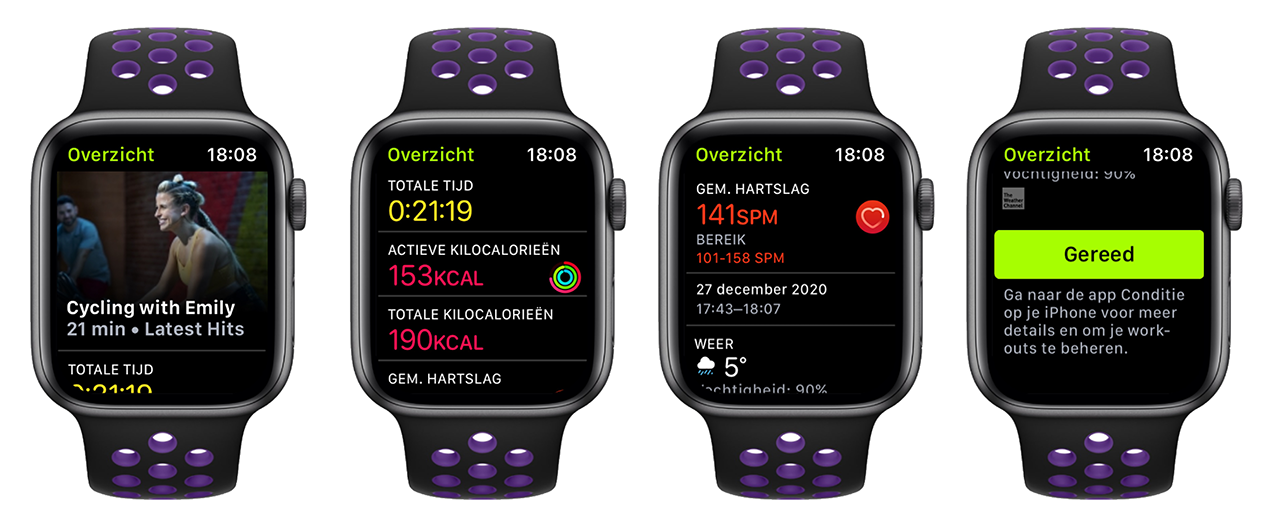 Multiple Fitness+ users, is that possible?
We only have one US iTunes account, which is not part of a household. This made it possible for the two of us to each do their own workouts, without being bothered by each other. That's because you actually use two Apple IDs: the US Apple ID to take out the subscription and your personal Apple ID for your personal info and progress. While using Fitness+ you can see from the account photo which person is active.
If you want to use Fitness+ on a shared iPad, then you have a problem. You are better off using your own device.
Fitness+ supports family sharing, so if you already have an American iTunes account with the whole family, you can use it with 6 people. But then you probably didn't need this manual.
Disadvantages of using Fitness+ 'unofficially'
There are two downsides to using Fitness+ before it officially launches:
Everything is in English, but that will be a problem for few people.
You have to switch to your US iTunes account each time you want to exercise.
You can always stay logged in to your American account, but any purchases you make will go through your American credit. Services that you were already a subscriber to, such as Apple Music and Apple Arcade, will suddenly stop working. So you will have to switch App Store accounts each time. What still works is making iCloud backups via your own account.